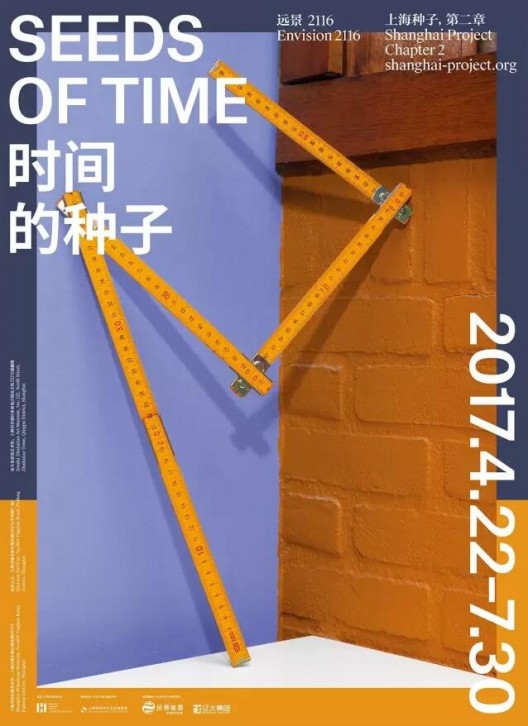 Shanghai Project Chapter 2
Envision 2116
Exhibition: "Seeds of Time"
April 22 – July 30, 2017
Venues: Shanghai Himalayas Museum, Envision Pavilion, Zendai Zhujiajiao Art Museum
Artists aaajiao and Liu Chuang are invited by Shanghai Project to participate in the exhibition's second chapter as researchers. Curated by Yongwoo Lee and Hans Ulrich Obrist, the Shanghai Project Chapter 2 exhibition "Seeds of Time" will be inaugurated on April 22, 2017. Taking its title from the documentary of the same name, which shares the project's call for action regarding the climate situation, the exhibition seeks to explore sustainability so as to better understand possible solutions for urgent environmental and social problems.
"Seeds of Time" is a single chapter within ongoing investigations by Shanghai Project participants. With each new chapter, the ever-unfolding structure develops further beyond the biennial format to which it first responded. Exploring the causes and effects of ecological transformation, Shanghai Project participants, address sustainability through the lens of interdisciplinarity. Aaajiao's work, a research-based project entitled "Body Shadow", is an experimental fusion of media and body art. It explores the theory of the meridian in traditional Chinese medicine through a 3D model of the artist's leg, as well as his "live" experience of tattooing the paths of "Qi" onto his body. Audience sees the artist realize the meridian system of traditional Chinese medicine, the channels of energy commonly used in acupuncture through the video documentation of the tattooing process that highlights the transformation of data into reality and back into virtual content. Liu Chuang engages with the research of Thomas Hartung and David Pamies as well as that of Stuart Kim, shedding light on our efforts to find scientific solutions to environmental problems, while also suggesting the limits we encounter.
From its initiation in 2016, the Shanghai Project has been an experiment, a laboratory for testing the boundaries of existing assumptions, and for considering how ideas might expand beyond the confines of individual silos of knowledge. For 100 days, "Seeds of Time" will engage with the public in Shanghai through an exhibition, a publication and public programs such as screenings, performances, workshops and social interventions. Facing the specter of extinction, we seek to inspire discussion and action regarding the sustainability of our futures in the 22nd century and the potential for solutions through interdisciplinary collaboration.
The Shanghai Project is organized by the Shanghai Himalayas Museum, co-organized by the Shanghai International Culture Association, with lead sponsors Envision Energy and Zendai Group.
Complete Researchers List
aaajiao, Etel Adnan, Alessandro Bava, Bulletin of the Atomic Scientists, Cai Guo-Qiang, Chen Xi, Chen Zhen, Ian Cheng, Leonardo da Vinci, Dai Zhikang, Diller Scofidio + Renfro, Du Yun, Peter Galison, Liam Gillick, Dominique Gonzalez-Foerster, Thomas Hartung, Adrian Hon, Huang Rui, Jennifer Jacquet, Ina Christel Johannessen, Stuart Kim, Rem Koolhaas, Li Naihan, Maya Lin, Lin Shumin, Little Sun (Founded by Olafur Eliasson & Frederik Ottesen), Liu Chuang, Ken Liu, Gustav Metzger, Katja Novitskova, Yoko Ono, David Pamies, Qiu Zhijie, Sarah Schlesinger, Seeds of Time, Miriam Simun, Bruce Sterling, Wang Xu, Yu Hong
About the artists
AAAJIAO
Active online as a media artist, blogger, activist and programmer, aaajiao is the virtual persona of Shanghai-based artist Xu Wenkai. Born in 1984 in one of China's oldest cities, Xi'an, aaajiao's art and works are marked by a strong dystopian awareness—his year of birth being the synonym of George Orwell's classic allegorical novel—, literati spirits and sophistication. Many of aaajiao's works speak to new thinkings, controversies and phenomenon around the Internet, with specific projects focusing on the processing of data, the blogsphere and China's Great Fire Wall. aaajiao's recent projects extend his practice to various disciplines (among them architecture, electronic music, performance, product design, and medicine) to capture the pulse of the young generation consuming cyber technology and living in social media.
Aaajiao's work has been featured in numerous exhibitions around the world, upcoming and recent shows include "Art in the Age of the Internet, 1989 to Today", The Institute of Contemporary Art Boston, Boston (2018); "unREAL", Haus der elektronischen Künste, Basel (2017); "Temporal Turn: Art and Speculation in Contemporary Asia", Spencer Museum of Art, Kansas (2016); "Take Me (I'm Yours)" (curated by Hans Ulrich Obrist, Jens Ho mann and Kelly Taxter), Jewish Museum, New York (2016); "Overpop", Yuz Museum, Shanghai (2016); "Hack Space" (curated by Hans Ulrich Obrist and Amira Gad), K11 Art Foundation Pop-up Space, Hong Kong and chi K11 art museum, Shanghai (2016); "Globale: Global Control and Censorship", ZKM | Centre for Art and Media, Karlsruhe (2015); "Thingworld International Triennial of New Media Art", The National Art Museum of China, Beijing (2014); and Transmediale, Berlin (2010). His solo exhibition includes: "Remnants of an Electronic Past", Centre for Chinese Contemporary Art, Manchester (2016); OCAT Contemporary Art Terminal Xi'an, Xi'an (2016), among others. He was awarded the Art Sanya Awards in 2014 Jury Prize and was nominated for the first edition of OCAT-Pierre Huber Art Prize in 2014.
LIU CHUANG
Liu Chuang (b. 1978 Hubei, China) produces work that integrates social intervention with institutional critique to examine China's immediate realities, particularly the Shanzhai phenomenon of piracy and plagiarism in mass manufacturing and culture. Working across disciplines from video, installation, architecture to performance, Liu uses banal ready-mades and intervention techniques with a subtle, wry sensibility and an awareness of absurdity.
Liu Chuang has exhibited extensively in international exhibitions including: "Matter Fictions", Museu Coleção Berardo, Lisboa, Portugal, 2016; "Tutorials", Pino Pascali Foundation Museum, Polignano, Italy, 2016; "Bentu, Chinese Artists In A Time Of Turbulence And Transformation", Fondation Louis Vuitton, Paris, France, 2016; "We Chat: A Dialogue in Contemporary Chinese Art", Asia Society, Texas, Houston and Center For The Arts, Wesleyan University, Middletown, Connecticut, USA, 2016; Berlinale, The Berlin International Film Festival, Berlin, Germany, 2016; The 10th Gwangju Biennale: Burning Down the House, Gwangju, Korean, 2014; The 10th Shanghai Biennale: Social Factory (Shanghai, China, 2014), "28 Chinese", Asian Art Museum, San Francisco, The San Antonio Museum of Art, San Antonio, both in USA, 2015, and Rubell Family Collection/Contemporary Arts Foundation, Miami, USA, 2013; "My Generation: Young Chinese Artists", Orange County Museum of Art, Orange County, California, USA, 2015; Oklahoma City Museum of Art, Oklahoma , USA, 2015, Tampa Museum of Art & Museum of Fine Arts, St Petersburg, Florida, USA; "Artists' Film International", Whitechapel Gallery, London, UK, 2012; "Moving Image In China: 1988-2011", Minsheng Art Museum, Shanghai, China, 2011; "China Power Station", Pinacoteca Giovannie Marella Agnelli, Turin, Italy, 2010; Astrup Fearnley Museum of Modern Art, Oslo, Norway, 2007; The Generational: Younger Than Jesus, The first New Museum Trienanle, New Museum, New York, USA, 2009; Mediations Biennale, Poznan, Poland, 2008; "Slash Fiction", Gasworks, London, UK, 2007, etc.
Liu Chuang's recent solo exhibitions include "Segmented Landscape", (K11 Art Village, Wuhan, China 2015) "Love Story", (Salon 94, New York, USA, 2014), "Untitled" (The Dancing Partner), (Kunsthall Stavanger, Stavanger Norway, 2014), and "Liu Chuang: Works #16-21", (Leo Xu Projects, Shanghai, 2012).