_____________________________________________________________________________________________________________________
BIOGRAPHY | SELECTED WORKS | RECENT EXHIBITIONS | SELECTED PRESS| INTERVIEW
_____________________________________________________________________________________________________________________
BIOGRAPHY
Leandro Erlich, born to an Argentine architectural family in 1973, is widely known for his intriguing optical illusions that lure his befuddled viewers to explore. His staged spaces can always turn the most assured situation upside down. With a single gesture to the architectural structure, Erlich transforms all sorts of everyday places into a baffling and deceptive visual mazes,challenging people's common sense, delivering the viewer into an alternative reality. The uncanny and sinister aesthetics of film directors Alfred Hitchcock, Roman Polanski, Luis Buñel and David Lynch directly influence Erlich's artistic rendering,while the fictional world of the Argentine writer Jorge Louis Borges is thoroughly absorbed into the artist's imagination.
Leandro Erlich has exhibited in many prestigious institutions and Biennales, such as MoMA P.S.1 and the Whitney Biennial in New York, Museo de Arte Contemporanea in Rome, Walker Art Center in Minneapolis, Tsumari Triennale in Japan, Centre George Pompidou and Palais de Tokyo in Paris, and the 49th and 51st Venice Biennale, among many others. Erlich was awarded the Eliza Prize in 1998, and the Joan Mitchell Foundation Award Unesco Prize during the 2001 Istanbul Biennial.
Erlich's works have entered numerous private and public collections, including the Museum of Modern Art, Buenos Aires; The Museum of Fine Arts, Houston; Tate Modern, London; Musee d'Art Moderne, Paris; 21st Century Museum of Art Kanazawa, Japan; MACRO, Rome; FNAC, France, and more.
The artist lives and works in Buenos Aires.
Download the complete artist biography.
SELECTED WORKS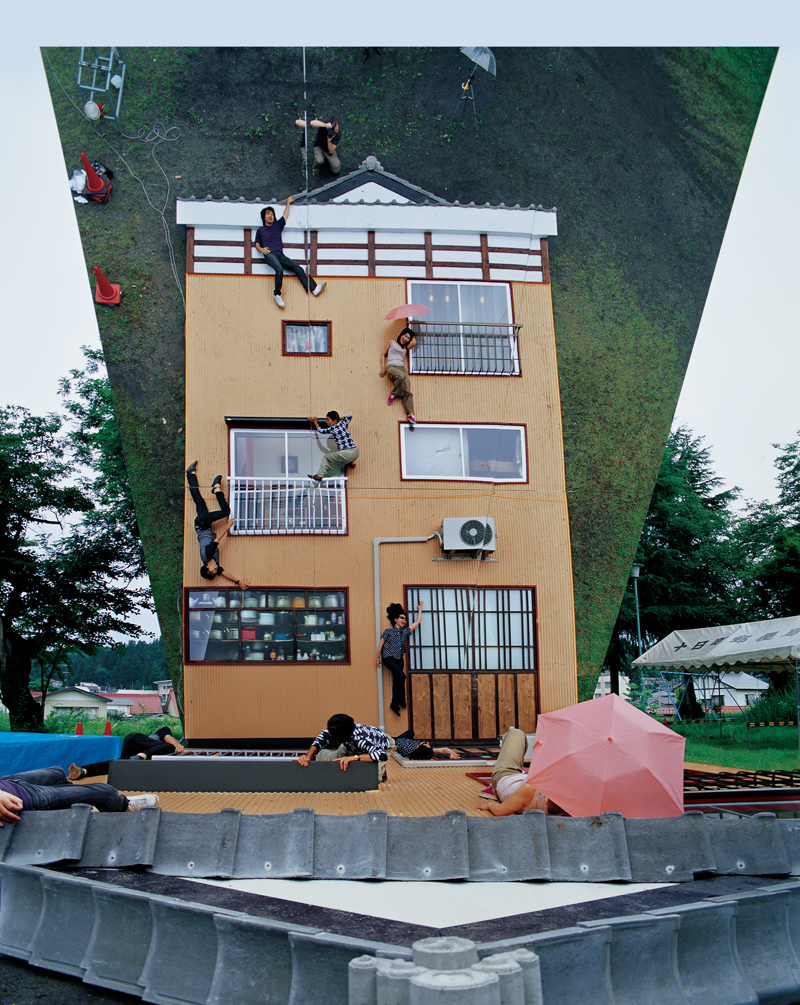 For more works and projects by the artist, download the portfolio in pdf.
RECENT EXHIBITIONS
"Blind Window" (solo), Luciano Brito Galeria, São Paulo, Brazil, 2016
"Puerto de Memorias", Muntref Centro de Arte Contemporáneo, Buenos Aires, Argentina Ascensores, Cultural Center Néstor Kirchner, Buenos Aires, Argentina, 2016
"Pulled by the Roots, GLOBALE" (solo), ZKM, Karlsruhe, Germany, 2015
"Kaohsiung's House" (solo), National Kaohsiung Center for the Arts, Taiwan, 2015
"La Democracía del Símbolo" (solo), Malba, Buenos Aries, Argentina, 2015
"Maison fond" (solo), Nuit Blanche, Permanent Installation, Paris, France, 2015
"Follia Continua!", Le Centquatre – Paris, Paris, France, 2015
"My Buenos Aires", La Maison Rouge, Paris, France, 2015
"Colección Daros Latinamerica", Proa, Buenos Aires, Argentina, 2015
"Cono Sur", Galería Xippas, Punta del Este, Uruguay, 2015
Nagoya City Art Museum, Japan, 2015
"Renaissance", Lille 3000, Lille, France, 2015
SELECTED PRESS
The Japan Times, "Nothing is ordinary for Leandro Erlich", by Sachiko Tamashige, July, 2014 [download pdf]
Harper's Bazaar Art, "Fashion dream walk in the mirror", January, 2014 [download pdf]
Modern Weekly, "The Secret of Changing Room", by Mango, December, 2013 [download pdf]
Oriental Morning Post, "Anti – gravity Game at Shikumen", by Zheng Yiqing, November, 2013 [download pdf]
The Daily Telegraph, "ArtistLeadro Erlich offers 'crazy perspective' at his illusion house in east London", June, 2013 [download pdf]
Harper's Bazaar Art, "Fashion Dream walk in the mirror", by Su Hongyue, January, 2013 [download pdf]
Blouin Artinfo, "A man's world in Miami", By Tom Austin, 2013 [download pdf]
For Him Magazine, "Illusion", edited by Yu Lingyuan, 2013 [download pdf]
City Weekend, "Leandro Erlich: Project Shanghai", 2013 [download pdf]
INTERVIEW

Interviewed by Andrew Frost, at Sydney festival. The Guardian, January 2014