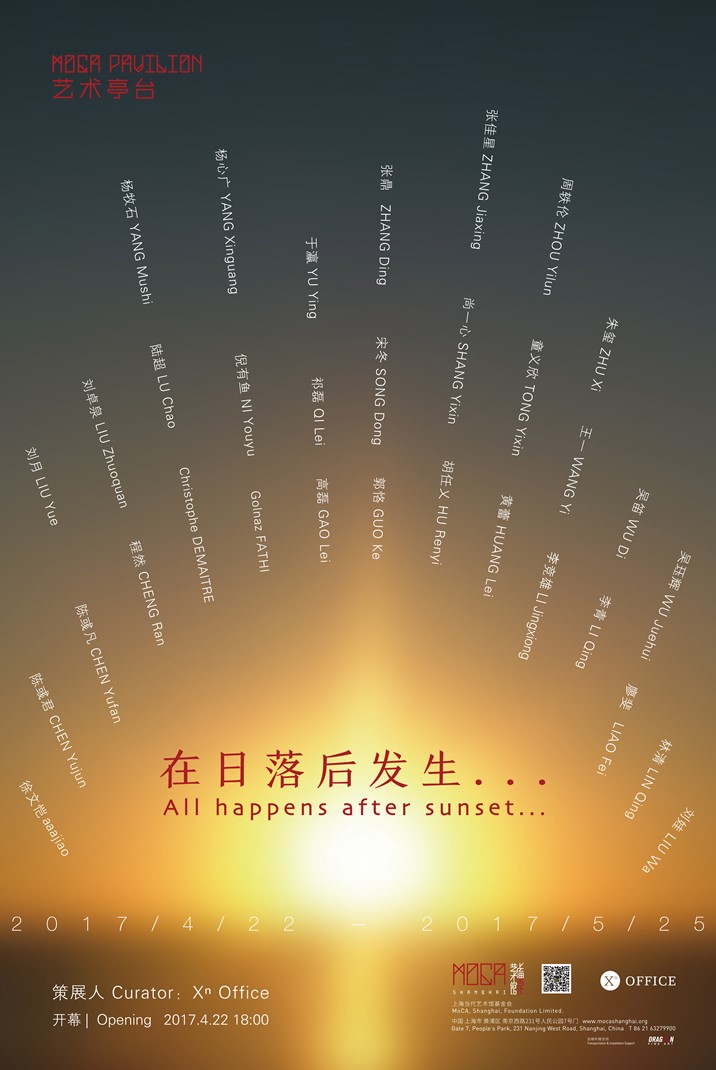 Group exhibition: All happens after sunset…
MOCA Pavilion, Shanghai, China
April 22nd through May 25th, 2017

Artists aaajiao, Cheng Ran and Li Qing participate the group exhibition "All happens after sunset" at MOCA Pavilion, Shanghai, curated by Xⁿ Office, a contemporary art curating group launched by researcher of art history Penny Xu and artist Ni Youyu. The exhibition is also part of the first phase of MOCA's 2017 "+Follow+" young artist group exhibition project, to follow young Chinese artists in their development, observing them as they mold through their early stages and blossom into maturity.
Different light sources, color temperature, brightness, texture will construct a three-dimension and multi-layered image in the space. By blending with and setting off each other, these light installations will become one complete piece of work, which possess the unprecedented resonating power. This power will stimulate the viewers' numbness and boredom of ordinary exhibition. And furthermore, it will drive them to really appreciate every distinct character of the art works.
Due to such expectation, Xⁿ Office invites over 30 artists to attend the exhibition "All Happens after Sunset…" . The exhibition will follow several principles as listed:
Only at sunset, all lights will be switched on, from the hustle and bustle of the late night till dawn repeatedly. Xⁿ Office expects this busiest neighbourhood of Shanghai will appear a bright, rich and exotic scenery for the passersby to observe all the details; During the daytime, all the original materials are fully exposed orderly or even disorderly in the exhibition hall.
The title of the works, along with the descriptions, will not be provided at the site. The curators' ultimate intension is just to let it be as it is, as its own free existence. Visitors are strictly prohibited. This is not an interactive game for pleasure, but a gorgeous background of a tourist's selfie, a widely spread social media circle picture, a landmark of a hangout between friends, or even just a rest area for a bottle of beer… This may be considered as a mixed exhibition but beyond that is the infinite possibilities.