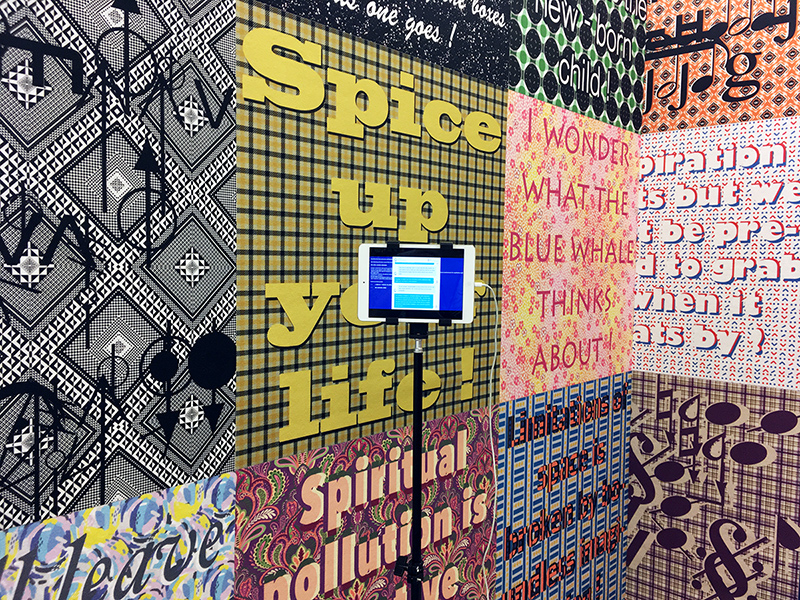 Booth: 1-7-G3
June 12th through 18th, 2017

The gallery's debut in LISTE – Art Fair Basel 2017 will feature a solo presentation by Copenhagen-based young Chinese female artist Liu Shiyuan.
Born in 1985 in Beijing, Liu Shiyuan lives and works in Copenhagen after having studied in New York and Beijing. Traveling and living between cities and across multiple cultures, Liu has developed an artistic sensibility to the new forms of language and expressions on cybersphere and its ensuing patterns of everyday communication across the globe. The works on view at the booth also underlines the nuances and influences of the new internet rhetoric between different regions and media.
The centerpiece of the booth, "This Way or That Way", is a room covered with artist-made carpets. Each carpet carries a particular pattern with a line of quote, campaign slogan or truism on top. The patterns represent typical internet graphic with regional twists, while the text is executed in various fonts. The work was first created for Liu's solo presentation in Frieze New York 2016 (Frame section) and received a Special Commendation from the Fair jury. It has become a highlight in the exhibition ".com/.cn", curated by MoMA PS1's Klaus Biesenbach and Peter Eleey, at K11 Art Foundation Hong Kong.
The booth also includes "Best Friends Forever", a single channel video commissioned by Frieze Magazine for its Protest issue (April, 2017). Set in a fabricated conversation between two fake twitter accounts "Art (@GlobalArtworld)" and "Politics (@ImportantPolicy)", the video references the social media sensation and notoriety of Donald Trump and comments on the engagement of art and art world in today's mechanism of politics and economy.
Copenhagen-based Liu Shiyuan (b. 1985 in Beijing) graduated from the School of Visual Art in New York with MFA in Photography, 2012; Central Academy of Fine Arts in Beijing with BFA in New Media Art, 2009. Liu's work has been exhibited at many international and Chinese institutions and galleries, for instance, "A New Ballardian Vision", Metro Pictures, New York, 2017; "Visual Questions", Guangdong Museum of Art, Guangzhou, 2017; ".com/.cn", curated by Klaus Biesenbach and Peter Eleey, K11 Art Foundation and MoMA PS1, Hong Kong, 2017; "The King and the Mockingbird", Vermillion Sands, Copenhagen, 2016; "For an Image, Faster Than Light: Yinchuan Biennale 2016", Museum of Contemporary Art Yinchuan, Yinchuan, 2016; "SHE — International Women Artists Exhibition", Long Museum, Shanghai, 2016; "Tutorials", Pino Pascali Foundation Museum, Polignano, 2016; "Bentu: Chinese Artists In A Time Of Turbulence And Transformation", Fondation Louis Vuitton, Paris, 2016; "Unordinary Space", Aurora Museum, Shanghai, 2015; CAFAM Future, CAFA Art Museum, Beijing, 2015; "Now You See", Whitebox Art Center, New York, 2014; 7th Shenzhen Sculpture Biennale, OCT—Contemporary Art Terminal, Shenzhen, 2012; "stillspotting nyc", Solomon R. Guggenheim Museum, New York, among others.
Her recent solo exhibitions include: "As Simple As Clay", Yuz Museum, Shanghai, 2015; "From 'Happiness' To 'Whatever'", Leo Xu Projects, Shanghai, 2015; "Lost In Export", White Space Beijing, Beijing, 2015; "My Paper Knife", Local Futures, Alter-Circuit, Asian Contemporary Arts Consortium and Et al. gallery, San Francisco, 2014; "Beyond The Pale", Andersen´s Contemporary. Copenhagen, 2014.