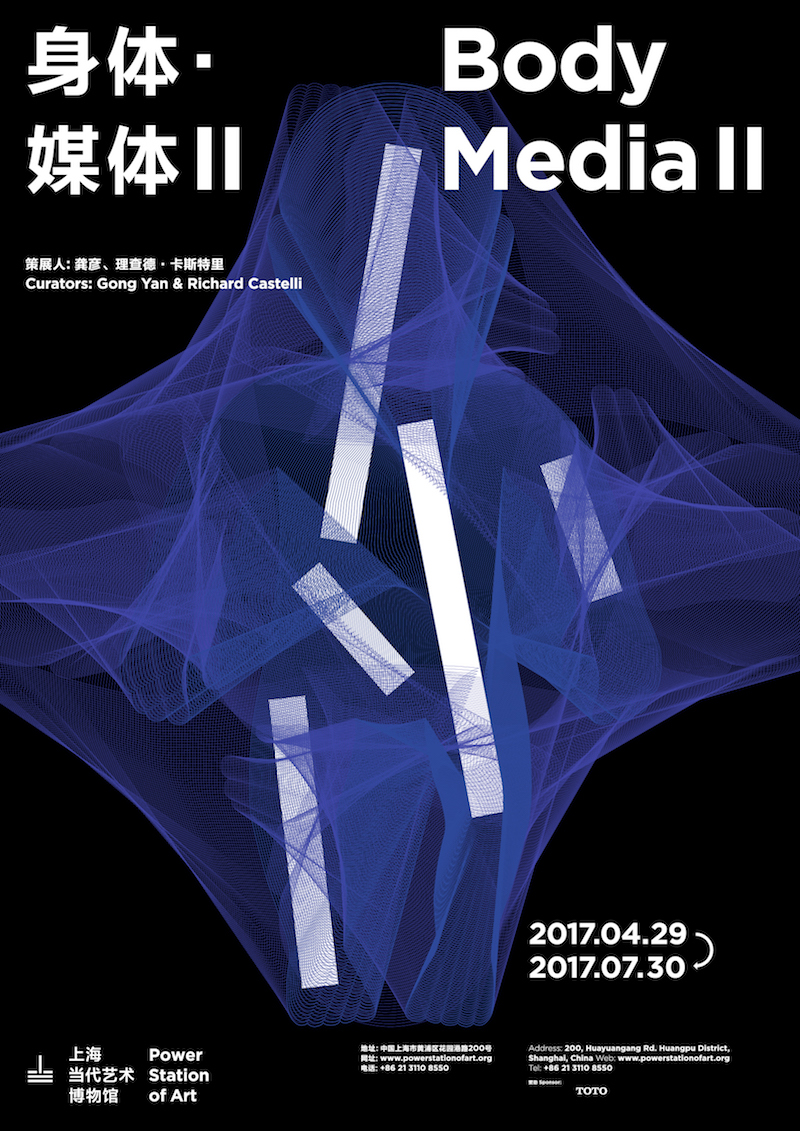 Group Exhibition: Body·Media II
Power Station of Art, Shanghai, China
April 29 through July 30, 2017
Artist aaajiao is selected along with other 23 artists/art groups from 12 countries to be included in the group exhibition "Body·Media II" at Power Station of Art, Shanghai,  co-curated by Gong Yan (China) and Richard Castelli (France). The exhibition continues the theme of 2007's exhibition Body Media, re-discusses the close ties between new media and body within the new era context totally revolutionized by advancing technologies. It contains installation, performance, photography, video, and other hard-to-be-defined art forms, introduces cross-disciplinary cooperative patterns and exceeds boundaries of interactive art exhibitions.
For this edition, the exhibition hall will be painted fully black, turning the white cubes into black boxes, thus to eliminate visitors' preconceived mindsets and use bodies as measurements of the artworks. The opening performances Shanghai Time and Cut Papers #21 will use a simple and repetitive manner of handicraft, to discuss the body's role in time and space and present a kind of intimacy and routinism towards digital technologies. Interactive projects such as ZEE and Les Disciplines du Retangle will invite the audience to involve in the realization of the artworks through the participation of their bodies. Flow of Life, Chiharu Shiota's 22-meter-tall installation specially commissioned for the exhibition, will vertically span PSA's first and second floors, using an empty bed to symbolize the absence of body and the elapse of life.
The different artworks present the body's properties of being revealed, substituted, augmented and limited, which is the very fate for the body in the development of new media and new technology. Technologies have changed our perceptions of the world, and the body, under such changes, is also obstructing our relations with the reality.
Ten years ago in Shanghai, the rise of Internet technologies and the construction of a new world order by these new technologies led to exciting anticipations and imaginations about how technologies would command the world in an new media exhibition known as Body Media. After a decade when communication modes and information technologies are discreetly changing individual mindsets and global frameworks, and when each individual can easily become a self-Media, MEDIA itself can no longer become the infinitely amplified focal point of a media artwork.
After all, the definition of NEW MEDIA ART is worth further elaboration, as expressions of all artworks would always require certain media/medium, but the NEW is always relative given the rapidly changing technological revolution. Therefore, such a new media art exhibition that is no longer shackled by technologies and media has returned to art itself to explore the direct yet profound relations between body and art.
According to curator Gong Yan, body is just like mankind's carry-on life-size interface as well as a familiar yet strange other. New media technologies have given body a stage to play and perform and are slowing its aging process; just as such technologies are postponing limits of art.
FULL ARTIST LIST:
aaajiao (Xu Wenkai), Sachiko Abe, Jean Michel Bruyère / LFKs, Emmanuel Carlier, Jalila Essaïdi, Mark Formanek, Hu Weiyi, George Hladík, Kurt Hentschläger, Ulf Langheinrich, Manon Labrècque, Julien Maire, Till Nowa, One Life Remains, Christian Partos, Chiharu Shiota, Sumito Sakakibara, Shiro Takatani, Pilvi Takala, Manuel Vason, John Wood and Paul Harrison, François Willème, Susanne Wagner, Wu Juehui.
ABOUT THE ARTIST
AAAJIAO
Active online as a media artist, blogger, activist and programmer, aaajiao is the virtual persona of Shanghai-based artist Xu Wenkai. Born in 1984 in one of China's oldest cities, Xi'an, aaajiao's art and works are marked by a strong dystopian awareness—his year of birth being the synonym of George Orwell's classic allegorical novel—, literati spirits and sophistication. Many of aaajiao's works speak to new thinkings, controversies and phenomenon around the Internet, with specific projects focusing on the processing of data, the blogsphere and China's Great Fire Wall. aaajiao's recent projects extend his practice to various disciplines (among them architecture, electronic music, performance, product design, and medicine) to capture the pulse of the young generation consuming cyber technology and living in social media.
Creative Fusion: Exploring Art Exhibitions in the Heart of Australian Casinos
G'day, culture enthusiasts and gaming aficionados! In a fascinating blend of entertainment and artistic expression, Australian casinos have transformed into unexpected havens for captivating art exhibitions. Join me on a journey that unveils the mesmerizing world where the thrill of gaming intersects with the allure of fine art.
1. A New Dimension of Entertainment
Australian casinos have transcended their traditional roles, becoming cultural hubs that offer more than just gaming. Art exhibitions bring an additional layer of enrichment to the casino experience, captivating both seasoned players and art aficionados.
2. Showcasing Diversity
Art exhibitions within casinos boast an eclectic range of styles, from contemporary to traditional, indigenous to international. This diversity of artistic expression mirrors the diverse crowd that casinos attract, creating a harmonious meeting ground for cultures and perspectives.
3. Elevating Aesthetics
The marriage of art and casino spaces elevates the overall aesthetics, turning gaming floors into dynamic galleries. Striking sculptures, vibrant paintings, and thought-provoking installations transform the environment, enveloping visitors in a visual feast.
4. A Curated Experience
Art exhibitions within casinos often feature curated collections that tie into themes or narratives. This enhances the overall experience for visitors, adding a layer of depth and context to the artworks on display.
5. An Enriching Escape
For casino-goers seeking a momentary escape from the gaming rush, art exhibitions provide a tranquil oasis. It's a space where contemplation, reflection, and appreciation of art blend seamlessly with the thrill of the casino.
6. Bridging Communities
The convergence of gaming and art brings together two seemingly disparate communities – those who relish in the excitement of gambling and those who appreciate the beauty of creativity. It's a bridge that fosters connections and encourages cross-cultural dialogue.
So, whether you're drawn to the spin of the roulette wheel or the stroke of a paintbrush, Australian casinos have crafted an extraordinary fusion of entertainment and culture. The juxtaposition of gaming tables and art installations creates an enchanting tapestry where chance encounters and artistic marvels intertwine, inviting you to immerse yourself in a world that defies convention.
Aaajiao's work has been featured in numerous exhibitions around the world, upcoming and recent shows include "Art in the Age of the Internet, 1989 to Today", The Institute of Contemporary Art Boston, Boston (2018); "unREAL", Haus der elektronischen Künste, Basel (2017); "Temporal Turn: Art and Speculation in Contemporary Asia", Spencer Museum of Art, Kansas (2016); "Take Me (I'm Yours)" (curated by Hans Ulrich Obrist, Jens Ho mann and Kelly Taxter), Jewish Museum, New York (2016); "Overpop", Yuz Museum, Shanghai (2016); "Hack Space" (curated by Hans Ulrich Obrist and Amira Gad), K11 Art Foundation Pop-up Space, Hong Kong and chi K11 art museum, Shanghai (2016); "Globale: Global Control and Censorship", ZKM | Centre for Art and Media, Karlsruhe (2015); "Thingworld International Triennial of New Media Art", The National Art Museum of China, Beijing (2014); and Transmediale, Berlin (2010). His solo exhibition includes: "Remnants of an Electronic Past", Centre for Chinese Contemporary Art, Manchester (2016); OCAT Contemporary Art Terminal Xi'an, Xi'an (2016), among others. He was awarded the Art Sanya Awards in 2014 Jury Prize and was nominated for the first edition of OCAT-Pierre Huber Art Prize in 2014.