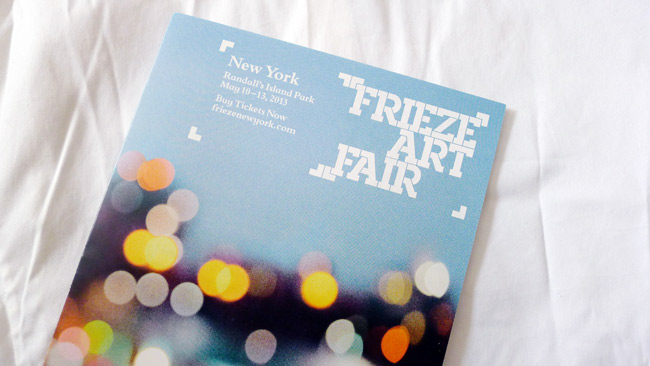 Frieze New York
Randall's Island, Manhattan
Booth B28
May 10th through 13th, 2013
Professional view May 9th, 2-9pm

LEO XU PROJECTS is proud to announce our participation in Frieze New York at Randall's Island, running from May 10th through 13th, 2013. At booth B28, we will be presenting Beijing-based artist Liu Chuang'ssolo show. It features a selection of his recent works that explore the cultures of the Shenzhen and Guangdong region that are shaped by a large population of migrant workers.
Liu Chuang's work integrates social intervention with institutional critique to examine China's immediate realities, particularly the Shanzhai—the phenomenon of piracy and plagiarism in mass manufacturing and culture. Working across disciplines from video, installation, architecture to performance, Liu uses banal ready-mades and intervention techniques with a subtle, wry sensibility and an awareness of absurdity.

Highlights of the booth include: a piece from his internationally exhibited series "Buying Everything on You" (2006-present) that presents possessions—underwear, ID cards, knives, lighters, combs, toothbrushes, band-aids, etc.—Liu acquired from individuals he encountered in Shenzhen's migrant job-market; a collection of pulp fiction novels from local book-rental stores, characterized by romantic and kung fu themes, and kitsch in style, are covered with written comments from readers who are local laborers. Additionally a video documenting a performance Liu is featured in, which probes the urban transformation of contemporary China, will be presented.
A leading figure of young generation of Chinese artists, Liu Chuang (b.1978 in Hubei) has exhibited extensively at China's prestigious institutions and galleries, including National Art Museum of China, Beijing (2011), Minsheng Art Museum, Shanghai (2011), Central Academy of Fine Arts Museum, Beijing (2012, 2011), Nanjing Museum, Nanjing (2005), and He Xiangning Art Museum, Shenzhen (2003). His works have been featured in international exhibitions such as "The Generational: Younger Than Jesus" at New Museum in New York (2009); "China Power Station", which traveled from Battersea Power Station, London (2006), to Astrup Fearnley Museum of Modern Art, Oslo (2007), and MUDAM, Luxembourg (2008); Mediations Biennale, Poznan (2008); "Slash Fiction", Gasworks (London, 2007).
Liu Chuang lives and works in Beijing.


Visit Artist Page for details and press on Liu Chuang.
For further information on the project, please contact the gallery at info@leoxuprojects.com or +86-21-3461 1245.
For visitor information, please visit Frieze New York website: http://friezenewyork.com/.
2013年5月10日至13日
专业预览 5月9日,下午2-9点
弗里兹纽约艺术博览会(Frieze New York)
美国,纽约,曼哈顿,兰德尔岛
展位号:B28

LEO XU PROJECTS很荣幸的宣布在本届弗里兹纽约艺术博览会(Frieze New York)我们将呈现北京青年艺术家刘窗的个展。博览会展期将于2013年5月10日开始,13日闭幕,专业预览时间是5月9日,下午2-9点。我们的展位号:B28。
刘窗的作品融合了社会干预与机构批判等元素,考察中国当下现实,其中尤以"山寨"文化为其近期作品的焦点。其创作涉足了录像、装置、建筑乃至行为表演等多重领域。其作品惯用呆板的日常现成品,并糅杂了细密感性、荒诞与错愕感。本次个展系由一批刘窗近作构成的现场装置,深度探讨了经由广大庞杂的外来流动务工人口改造的深圳、广东当地文化。
展览的焦点包括:一件出自刘窗在国内外广泛展览的系列《收购》(2006—至今)的装置,该装置罗列了艺术家从深圳人才市场的外来务工人员身上收购的所有物件,包括内衣外套、身份证、银行卡、刀具、牙刷、创可贴等;一件收罗了艺术家从东莞采购的旧书摊上的二手旧书,这些地摊文学包容了言情、功夫等主题,设计粗劣低俗,内文中留存了匿名读者的留言与字句。此外,还将首映一部记录了艺术家现场行为表演的录像短片。
作为今日中国新生代艺术家的代表之一,刘窗(1978年生于湖北)在国内的诸多著名美术馆、画廊频繁展出,譬如,中国美术馆(北京,2011)、民生现代美术馆(上海,2011)、中央美术学院美术馆(北京,2011、2012)、南京博物院(南京,2005)、何香凝美术馆(深圳,2003)等。此外,他的作品亦屡屡参加国际重要的展览,如《比基督还年轻》,新美术馆(纽约,2009);《中国发电站》,巴特西发电站(伦敦,2006)、Astrup Fearnley现代美术馆(奥斯陆,2007)、MUDAM(卢森堡,2008);《调解——波兹南双年展》,(波兰,2008);《同人小说》,Gasworks(伦敦,2007)等。
刘窗现生活、工作于北京。

访问艺术家主页,了解更多关于刘窗的作品和媒体报道。
更多项目的信息,请联系画廊 info@leoxuprojects.com 或致电 +86-21-3461 1245。
艺博会参观信息,请见弗里兹纽约(Frieze New York)官方网站 http://friezenewyork.com/。