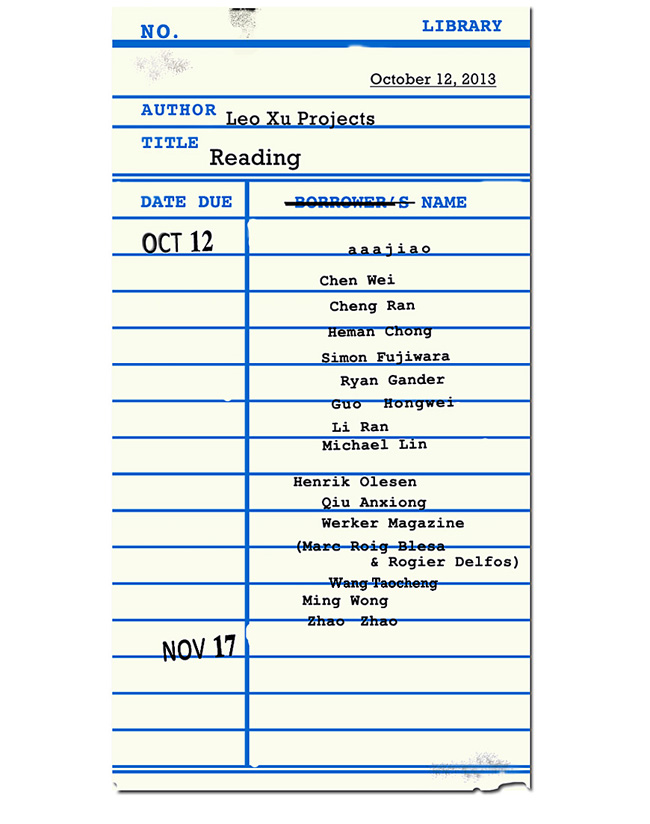 October 12th through November 17th, 2013
VIP reception: Saturday October 12th, 6-8pm
Artists: aaajiao, Chen Wei, Cheng Ran,Heman Chong, Simon Fujiwara, Ryan Gander, Guo Hongwei, Li Ran, Michael Lin, Henrik Olesen, Qiu Anxiong, Wang Taocheng, Werker Magazine (Marc Roig Blesa & Rogier Delfos), Ming Wong and Zhao Zhao.

LEO XU PROJECTS is pleased to present group exhibition "Reading", featuring a selection of works from aaajiao, Chen Wei, Cheng Ran, Guo Hongwei, Heman Chong, Simon Fujiwara, Ryan Gander, Guo Hongwei, Zhao Zhao and Michael Lin among others. The show runs from September 9th through to November 27th.
Taking over both the gallery space and the Bund's Le Space, the exhibition surveys the act of 'reading', exploring its role in history, in modern times as well as in present day. Throughout the development of mankind and human civilization, we have relied and depended on reading to gain, gather or communicate knowledge and information for all disciplines; for example, Chinese literati scholars required poetry to be shared through reading before it was considered a complete work, and reading became a means not only to express oneself but to understand others. Whether it be reading nature, reading the stars, reading technology, reading literature, reading performance, or reading art, the manner of reading has been vital not only for individuals, but for vital understanding of the people, objects, disciplines both closely and far away. Using this prompt, this exhibition displays the manifestations of reading in the selected artists' practices, demonstrating the varieties of definitions and approaches to 'Reading'.

Opening with two of aaajiao's provoking works, are his two information installations GFWlist and BlogArchaeological (both 2010) both of which surround issues of 'reading' online. In playing homage to the dystopian futuristic world of Stanley Kubrik's 2001: Space Odyssey, GFWlist finds a small printer set in the middle of a black monolith, continuously printing information in hexadecimal – an alien-like encrypted language unfamiliar to most. What is being produced by the printer in the metaphorical "gateway" are domains of websites blocked by the Great Chinese Firewall, but its ineligibility prevents the gateway from being open to its viewer. Thereby aaajiao's ironic further blockage of what is already blocked, discusses the act of authoritative expurgation in relation to the development and evolution of culture and civilization in the digital age. In BlogArchaeological, aaajiao depicts yet again the present day common-practice of virtual reading, as he produces a personal collection of his own digital library. Set within a curio table are ten digital scales, each measuring a year's worth of content in .jpeg and .html format collected from the web-culture revolutionary  who coined the term "blog", Jorn Barger's RobotWisdom.com on an SD card. With each archive weighing slightly differently, aaajiao questions the physicality of virtual information, as well as the notion of infinite and immeasurable data in cyberspace.
Interpreting the subject of 'reading' in a comparatively traditional manner is Chen Wei's A Book with a Green Cover (2011). Made during his residency in Yokohama, after finding an old edition of one author Kōbō Abe's books. Being Chinese and only able to read the Hanzi characters of the Japanese script, Chen Wei began to fill in the Kanji "gaps" with his own imagination. Physically manifesting his process of reading through this artwork, taking in turns with his assistant to add Chinese characters to the deleted sections, the book ends up as an exquisite corpse, based on the visualized foundation of the author combined with the varying imaginations of Chen Wei and his assistant. Thereby through this work, the viewer is able to gain insight into a form of "collective reading". Also re-interpreting several modern classics popular amongst the youth of the 80s and 90s in China is Heman Chong, whose displayed selection of works arrive from an ongoing series interpreting various read fictions into an abstract expressionist book cover form.
In Beijing based Guo Hongwei's It Must be a Good Work (2013), the artist creates a sixty-seven page manga-comic 'book', using manga books of his own collection. Choosing almost randomly pages from various books, he rids the pages of all but the content frames and text bubbles before placing them in order to recreate a foundation for a story of his own deciding. Giving only hints through the framing shapes and the pictured texts, Guo Hongwei invites the viewer to fill in the gaps with their own imagination. Guo's other four works on show, such as Invitation to Wine (Jiang Jin Jiu) and Beauty (Mei Ren) (both 2011), are collaborative pieces between the artist and his father Guo Qiang, a renowned calligrapher based in Sichuan. Created by sending his father four blank sheets alongside four classical poems from the Tang and Song dynasties, Guo's father transcribed the works in differing calligraphy scripts according to his interpretations of them. Upon return, Guo included his own interpretation of the poems by carefully picking out 'keywords' to be searched in Google Images, before illustrating the found images in accompaniment to his father's work.
Two works tackling very personal stories and recounts are by artists Cheng Ran and Ryan Gander. In Cheng Ran's video Existence Without Air, Food or Water (2013), the artist creates a visual accompaniment for his self-produced song based on a salvaged anonymous diary detailing a young girl's life. Split into two parts and two larger scenes and filmed entirely on his smartphone camera Cheng Ran offers two various interpretations of the incredibly individual story; first in the form of a 'music video' in which we see the protagonist singing and strumming a bass guitar in sync to the music, and secondly in the form of a road trip, created through combining collected footage from the artist's personal travels. In Ryan Gander's The Book of 'The Sitting', the viewer sees an open book lying face down inside a vitrine. Whilst open, the book and thus story is completely unreachable, and never to be read. The artist, while literally giving his life away like 'an open book', remains closed, and his confessional story never to be read.
Alternating the perspective to that of a child with little 'reading experience,' Michael Lin creates two sets of diptychs of children's kindergarten books. Enlarging works by his children and their classmates' educational drawing books, he pairs a 'normal' object, such as a Computer in Dian Nao and an umbrella in Yu Sai (both 2012), with two examples of specifically named warfare airplanes. Through these works, Lin points out to the information we are given and taught, and the need to question when reading materials of any kind.
Tackling the act of reading through its more abstract definition, Zhao Zhao depicts for us the manner in which he reads into various artworks and objects around him. In the mixed media installation of Euro and Toothpick (2007), which displays for the viewer the photographic process from which the artist creates to his final products of a set of wooden toothpicks and metal coins, Zhao Zhao shows us his vandalism of both Ai Weiwei and Anselm Kifer's works, taking parts as materials to create his own. Through these works, Zhao Zhao explains his own reading of art history and of other artists' works, as well as the practical manifestation of his 'readings'.
In a special commission for the exhibition, Simon Fujiwara's Lucky Dip, which stems from his much celebrated project Welcome to the Hotel Munber (2008-2010), uses the topic of reading to discuss history. The site specific installation which depicts objects often found in a Spanish bar, such as a leg of ham, a terra-cotta pot or a guitar, uses paper mâché to shape the hanging items. Using pulped homosexual literature and texts as its main material, Fujiwara utilizes his work to reflect Spain under the Franco dictatorship, placing its' then very illegal publications ironically into some of the nation's most prized possessions.
In Mont Sainte-Victoire (2012), Li Ran employs a myriad of sound layers and dubbing as a means of reading his script in hand. Using this artwork, Li Ran explores the art of dubbing, and the way in which reading can be utilized as performance.
Ming Wong's three-channel video installation The Life and Death in Venice (2010) reinterprets both the 1912 novel Death in Venice by Thomas Mann and the 1971 film adaptation by Luchino Visconti. Filmed during his time at the 53rd Venice Biennale, the artist places himself into the role of the protagonist, Ming Wong uses elements from his reading of both versions of the fiction to create a confessional piece on his own personal crises.
Henrik Olesen's employs 4 posters (2008) as tribute of sorts to Alan Turing's life as a tragic hero, who, as homosexual in the early 20th century looses his happiness, life and body due to the boundaries of the period he lived in. Using Turing's own scientific publications, Olesen re-appropriates text to create a work on the philosopher's life.
Two literature-reactionary pieces in the exhibition come from Wang Taocheng and Qiu Anxiong. In video Reflection Paper No.2 (2013), Wang Taocheng contemplates her reactions towards an Eileen Chang novella, and how through reading she relates to a person a century ago. Similarly, Qiu Anxiong's work also compares itself to Chinese literature of the past, through its' illustrative observations and 'new' recreations of the mythical Classics of Mountains and Seas (Shan Hai Jing).
Also on show are a series of publications titled Werker Magazine (2009-ongoing) created by artist Marc Roig Blesa and  Rogier Delfos, who collect and assembled edited historical materials of workers from a range of photography archives.
For further information, please email the gallery info@leoxuprojects.com or phone +86 21-34611245.