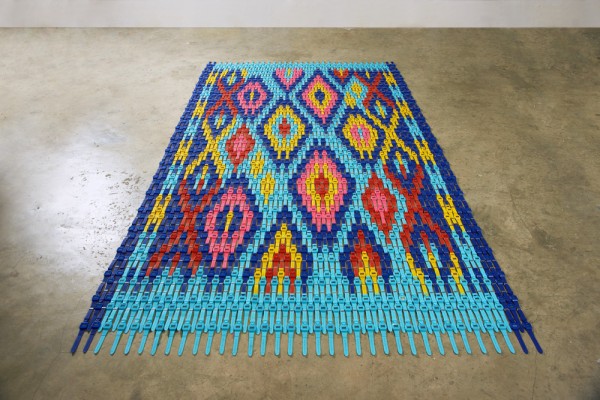 January 28th to February 28th, 2014
MCM gallery space, IAPM mall, Shanghai
Organizer: LEO XU PROJECTS 
Belgian artist Heidi Voet's solo show "As Far As I Can See" presents one of her most widely known series, two tremendous craft works consisting of thousands of colorful digital watches made in China weaving into rugs. A new photograph pairing with an installation Stars & Constellations is placed in the store VIP room, echoing the intimacy and exclusivity of the environment. The exhibition is open to public from January 28th through February 28th, 2014.
Born in Belgium, Heidi Voet lives and works in Shanghai since 2006. Her work concentrates on positioning oneself in time and place and how one diverts from this confinement through utilizing phantasy and the desire for ideals. Mass produced or prosaic materials, found in Voet's environment, are often employed with a humorous or fantastic approach to reflect issues concerning gender, culture and economy.
The two watch rugs lying at the store entrance, We were so close/We knew we were chosen/We aimed for high speed/And for someone who/Could catch me and Is six afraid of seven/'cause seven, eight, nine/I'm about to lose the pieces I find impose a strong visual statement to unprepared shopping mall costumers. Voet created elaborately patterned rugs by interlocking thousands of colorful digital watches, manufactured in China. The watches all have synchronized alarms, but inevitably malfunction and chime off beat over time. They open up a discussion on labor and economic exchange behind the pleasant appearance.
The photograph work Stars & Constellations group artist's collection of coins from various countries, mimicking the glistening stars against a serene black backdrop. Scattering among real coins, artist also fashions a unique version of European coins with their nationalities erased. The mix-up of different currencies creates a refreshing angle to looking at the global political and power landscape, inspiring us a second thought on the inner value of currencies. The unfamiliar patterns on some of the coins also provoke a poetic quality and esthetic pleasure to them.
Heidi Voet's multi-disciplinary artistic practice is characterized by her playful and transformative use of objects to make critical social commentary about everyday life. Voet frequently uses popular images or objects found in Chinese culture as central subjects in her works. Except the works on view, photographs from erotic magazines sold in corner stands around China have also served as a subject and source material in many of Voet's works, including sculptural cutouts, paper flower bouquets, and her "Fruit & Vegetable" assemblages (2010).
Heidi Voet's works have been shown in several solo shows including "Is six afraid of seven" at the Shanghai Gallery of Art, China; "Can the maker repair what he makes" at Salon Blanc, Oostende, Belgium; "Cool, Sweet & Drill holes" at IT Park Gallery, Taiwan and "The Joker" at Beauty Room, Paris, France, etc. She also participated in numerous group shows as "Neo Povera" at L&M Arts, Los Angeles, USA; "The Critical fundamentals of Europe" at the Goethe Institut, Brussels, Belgium and "Un-scene" at the Wiels Contemporary Art Center in Brussels, Belgium. In October 2013 the first monograph on Heidi Voet's work, was published by the Belgian award-winning publisher MERpaperkunsthalle.