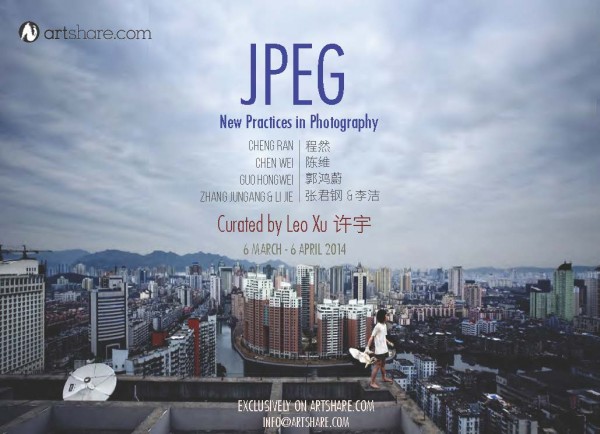 JPEG: New Practices in Photography
 March 6th through April 6th, 2014
online exhibition on Artshare.com
Curated by Leo Xu
Leo Xu Projects collaborated with artshare.com to present an in depth selection of four important Chinese artists and collectives.
JPEG, in computing, is a common method of compressing images. And JPEGs are arguably the most common image format we encounter in our everyday life.
With the advent of JPEGs, the philosophy of photography has been significantly challenged and changed. Access and availability have become instant, the categorization of genres smashed, boundaries of aesthetics blurred. Between 2000 and 2005, we saw an exuberance of online forums and bulletins specializing in photography in China, frequented by a young generation of Chinese, some of whom now active artists on the local and international scene. This uprising also coincided with the momentary boom of photography festivals accommodated by many remote and ancient towns in China. These critical years heralded the arrival of a generation of artists less interested in documenting, with their cameras, performances that solely test the endurance and limits of the body. Rather, they see photography as a frontier that connects choreography, cinematography, literature, and theatre performance.

JPEG: New Practices in Photography is a comprehensive online exhibition curated to revisit and extend upon an earlier exhibition of mine Blog It: New Wave of New Wave that surveyed young Chinese artists' practices which were inspired and affected by the internet. JPEG narrows its focus to address the fact that JPEGs and online images, as well as resources of other formats, has enabled differentiated navigation, and thus have altered the artists' practices, creative methodologies, concepts and techniques.
JPEG features emerging artists Chen Wei, Cheng Ran, Guo Hongwei and Zhang Jungang & Li Jie, who all hail from different backgrounds and fields, across photography, video, installation, and painting.
An experimental sound artist and musician in his early career, Chen Wei (b. 1980 in Zhejiang) produces works that capture young Chinese' responses to the current social climate and conflicts between global and local cultures. Subjects of his cinematically staged photographs include dreamscapes, unlikely moments in everyday life, historical residues and cultural memories. Currently based in Hangzhou and Amsterdam, Cheng Ran's (b.1981 in Inner Mongolia) videos and installations have been praised for their eclectic form in which films are integrated into the poetic culture of contemporary age. His works convey a fresh perspective on the unsolvable issues in life, such as questions regarding identity, life and death, and the anguish felt by young citizens living through a globalized Chinese culture and cultural policy. Guo Hongwei (b.1982 in Chengdu), a young painter based in Beijing, is critically acclaimed for his distinctive watercolors and oil paintings that probe museological methodology. His recent series of collages on paper explores the possibilities that an image can carry. Spontaneous and earnest, works of Zhang Jungang & Li Jie, a self-taught artist duo living in Harbin—blur the boundaries between the documentary and the staged, resulting in a volume of photographic essays and narratives that celebrate the dynamism of youth and love.