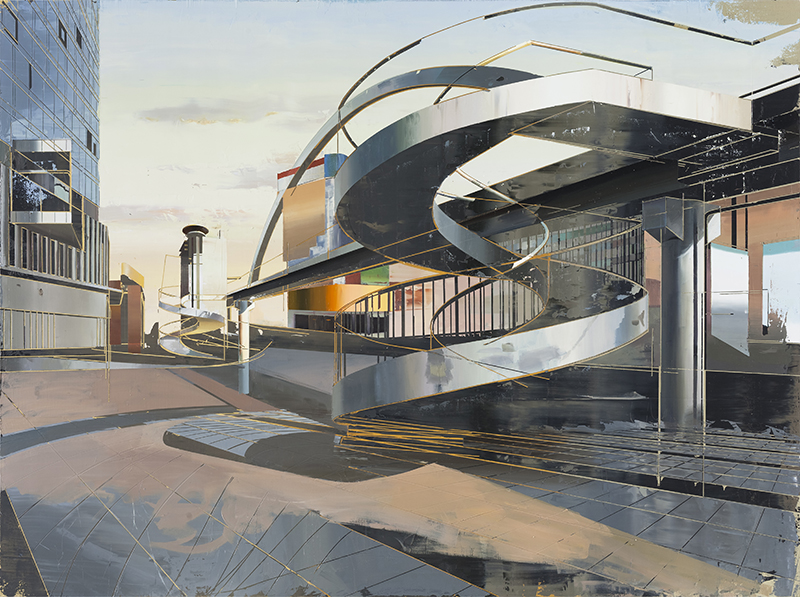 November 23rd, 2014 through January 4th, 2015.
LEO XU PROJECTS is pleased to present the gallery's second solo exhibition of Beijing-based painter Cui Jie. Featuring a range of works from this year, the exhibition displays a selection of works from three of the artist's recent series exploring urban landscapes, the relationship between the cityscape and its' public artworks, as well the artist's own connection with her architectural interests and research. Expanding on the continuous survey of the artist's personal interpretations of her architectural surroundings in various urban environments in China, the exhibition presents not only the endlessness of urban development, but also the innate cyclic behaviour of metropolitan life.
Having lived her entire life in various Chinese cities, the Shanghainese native has largely focused her artistic practices to an architectural study of the environments around her, as a means not only to record and observe the varieties of these cities' landscapes, but also to understand the individual urban-psyche. Overpass at Shuang Jing Qiao (2014) stems from Cui's architectural landscape paintings, which often place emphasis on the ordinary buildings of the landscapes, as a means to understand the structures that shape the daily urban experiences. Painting from the pedestrian's perspective, the work allows for a common yet intimate relationship with the buildings.
Similarly, Residential Buildings with Underground Parking (2014) displayed on the second floor of the gallery focuses on the ordinary cityscape of almost any Chinese city. The view chosen by the artist less for their function or importance, but rather for the juxtaposition of residential "Tongzilou" of the 60s and 70s alongside various buildings and the entrance to an underground parking lot built across the following decades. By placing different elements across contradicting lines of perspectives as well as ridding components of each structure, the artist touches on the oddities of the urban resident's almost instant acclimation to their surroundings.
Cui Jie (b. 1984, Shanghai, China) currently lives and works in Beijing, China. She has been featured across a number of exhibitions internationally, among the most recent: My Generation: Young Chinese Artists (Tampa Museum of Art & Museum of Fine Arts, St Petersburg, Florida; Oklahoma City Museum of Art, Oklahoma, USA, 2014), Green Box-Remapping: the Space of Media-Reality (Tianhong Mei Heyuan Arts Center, Hangzhou, China, 2013), and The First "CAFAM-Future" Exhibition – Sub-Phenomena Report on the State of Chinese Young Art, CAFA Art Museum, Central Academy of Fine Arts, Beijing, China, 2012).