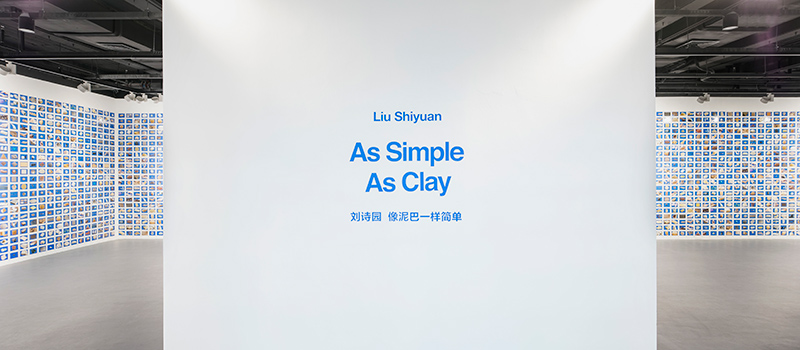 Liu Shiyuan: As Simple As Clay
November 14th 2015 through January 31st 2016
Yuz Museum Shanghai
35 Feng Gu Road, Xuhui District, Shanghai, China
The first museum solo show of the artist, "As Simple As Clay" shows Liu Shiyuan's critically acclaimed installation of the same tile in full scale. First included in "Local Futures" (2013) at He Xiang Ning Art Museum, Shenzhen, and later featured in "Alter-Circuit" (2014) at Asian Contemporary Arts Consortium and Et al. gallery, San Francisco, the newest presentation occupies the entire project room in Shanghai's Yuz Museum, presenting an encyclopedia view of thousands of internet photos that catalogues the notion of "clay".

As a female artist born after 1980s, Liu Shiyuan's works share a tight connection with her life and visual experience. Nurtured by Chinese traditional education, she chose to go to New York for further artistic study after graduation, and now lives and works in Beijing and Copenhagen. It is her multicultural life experience that drives her to inspect the boundaries among different cultural patterns as well as make a change or doubt about the artistic language and creative language. Via the various media of photography, collage, installation and video, she investigates the frontier in her artistic practice and challenges the limitation of perception and experience to seek for the essence and the interaction among life, existence and perception in the new cultural context.
In this project, Liu Shiyuan will present her work, entitled As Simple as Clay, which was created just after her moved to Copenhagen. It was the first time for her to realize that she could not live the way she likes, which perhaps because she needed to learn a new language. In this case, she tried to abandon the existing logic she had mastered, taking the art as the experiment and start over. Begun with the mud, the most original material, she proceeded to experiment what kind of works she would create. By googling its image, she discovered some similarities between the mud and other objects. Then she explored the visual counterparts of the mud to create a series of related objects such as cheese, butter, flour paste and soap etc. by taking its advantage of plasticity, and then photographed a series of photos as well. The mud here is just a representational material, which could easily transfer between the medium and the object. The backgrounds on the images were specially designed in blue, to reach the visual assimilation and representational unity through digestion as well as blur the existence of the real space. In another words, it does not mean that seeing is believing.
In the process of creating and constantly introspection, Liu Shiyuan integrates her cultural origins with her later diverse cultural encounters via presenting her concepts and ideas in visual forms. What she thinks is the different worldviews from different people in different systems, and thus to deliver a subjective reality worth discussing.
About the Artist
Liu Shiyuan was born in Beijing in 1985, graduated with a BFA in New Media Art at Central Academy of Fine Arts, Beijing in 2009, and an MFA in Photography, Video and Related Media from the School of Visual Art, New York in 2012. She currently lives and works in Beijing and Copenhagen. Her major exhibitions include: From "Happiness" To "Whatever" (Leo Xu Projects, Shanghai, 2015); Lost In Export (White Space, Beijing, 2015); Moving in time B3 + Beijing Moving image exhibition and CAFAM Future (CAFA Art Museum, Beijing, 2015); Present Future section at Artissima (Oval, Lingotto in Turin, 2014); Beyond The Pale (Andersen's Contemporary, Copenhagen, 2014); Now You See (Whitebox Art Center, New York, 2014); Local Futures (He Xiangning Art Museum, Shenzhen, 2013); The 7th Shenzhen Sculpture Biennale (OCT-Contemporary Art Terminal, Shenzhen, 2012); Stillspotting, Guggenheim (New York, 2011) and etc.