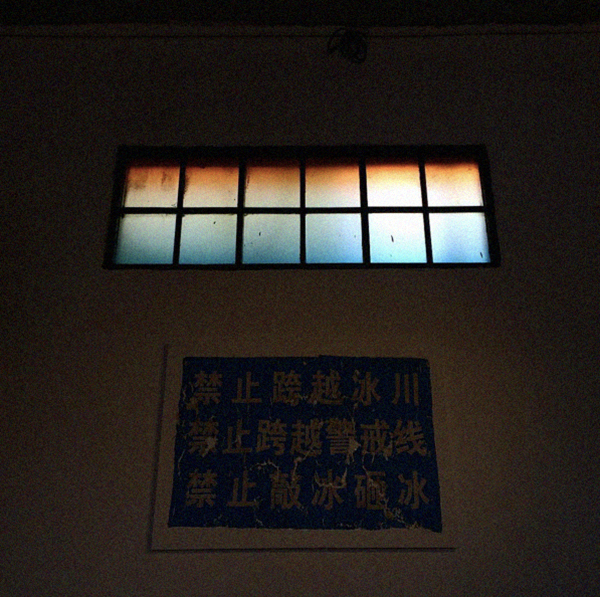 Cheng Ran: Orange & Blue
March 19th through April 19th, 2016
Qiao Space
2555-5 Longteng Avenue, Xuhui District, Shanghai

Cheng Ran's solo exhibition "ORANGE & BLUE" opened on March 19,2016 at Qiao Space. His manuscripts and properties for his epic 9-hour film titled "In Course of the Miraculous" were showcased in this exhibition.
"At one point, I developed an obsession with the concept of an "adventure", and had an irrepressible urge to develop, produce and direct a 9-hour film. In my recent memory, there are several types of film that are 9 hours long, some of them are documentaries, some of them are dramas and some of them are archival films. Although they cross genres and have been divergently executed, they were all very powerful." Cheng Ran
In Course of the Miraculous is based on three real life stories that end mysteriously. The film was shot across continents in the East China Sea, Tibet, Switzerland and Amsterdam, with a large-scale set created in an indoor shooting stage in Beijing to recreate the dramatic scenes at sea. From a crossing of the Atlantic, to an expedition to the summit of Mount Everest, to inexperienced sailors losing the majority of their crew before returning to Mainland China, a spirit of exploration, loss and melancholy unite the diverse stories. The premise of this work is based on recorded events but as the film develops, the progression enters the dominion of fiction, creating imagined dialogues discussing larger themes of action, courage and bravery
Cheng Ran is one of the foremost new media artists practicing in the Chinese contemporary landscape. "KAF has been a long term supporter of Cheng Ran and grateful to have the opportunity to participate in this momentous endeavor. The production of a film of this length, scale and conceptual complexity is a tremendous undertaking for any artist, and particularly so for an emerging voice." stated Adrian Cheng, Chief Producer of the film and Founder of the K11 Art Foundation.