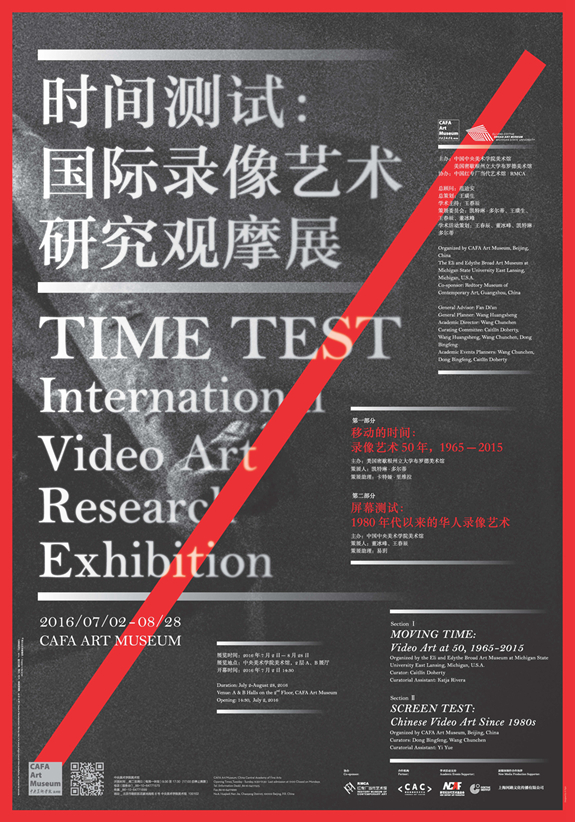 Time Test: International Video Art Research Exhibition
July 2nd through August 28th, 2016
Opening July 2nd, 1:30pm
CAFA Art Museum
8 Huajiadi S St, Chaoyang District, Beijing

In recent years, large-scale exhibitions on the academic study, historical overview, and specialized exhibition of video art have been held in both western and non-Western countries. The recent interest in the medium is intimately related to the development of contemporary art overall. The structure of contemporary art today is moving toward homogenization and focusing on mutually influential and related global events. However, in the course of rapid globalization, the art of non-Western countries is urgently searching for new ways of reconstructing and writing its own history.
In this context, CAFA Art Museum and the Eli and Edythe Broad Art Museum join up to organize "Time Test: International Video Art Research Exhibition". In the axis of the development course of the video art, the project presents around 50 domestic and foreign artists with two collateral exhibitions echoing with each other. The two exhibitions are: "Moving Time: Video Art at 50, 1965-2015″ and "Screen Test: Chinese Video Art Since 1980s".
"Screen Test: Chinese Video Art Since 1980s", in which Cheng Ran participates, focuses on organizing and reviewing the last thirty years of video art through representative Chinese voices in active in moving image art.
Within the title "Screen Test," the "screen" refers to the framed vehicle for the projection and presentation of the moving image, while "test" refers to the practice and manifestation of the medium in the multiples spaces in which art museums hold public education and discussion events. This concept attempts to break away from narrow understandings of video art and the excessive focus on the forms, techniques, and development of the medium. Instead, this art form is re-examined with the context of the art museum and broader public places, which also allows for the investigation of the closely-related media of documentaries, film, and new media art, proposing a renewal of artistic ideas and posing a challenge to the sites of culture.
Participating Artists of "Screen Test: Chinese Video Art Since 1980s" include:
Cao Fei, Cao Kai, Chen Chieh-jen, Cheng Ran, Feng Mengbo, Jia Zhangke, Jiao Yingqi, Hsu Che-Yu, Li Yongbin, Lin Ke, Lu Yang, Mao Chenyu (filmfarm), Miao Ying, Qiu Zhijie, Song Dong, Wang Bing, Wang Gongxin, Wang Jianwei, Wang Jun-Jieh, Ming Wong, Xu Tan, Xu Zhen, Yang Fudong, Yuan Goang-Ming, Zhang Peili, Zhou Xiaohu.