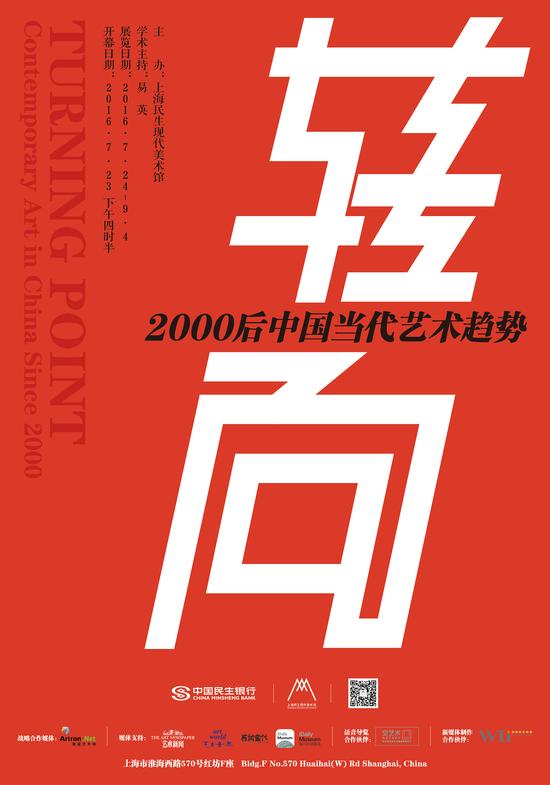 Turning Point: Contemporary Art in China Since 2000
July 24th through September 4th, 2016
Minsheng Art Museum
bldg F, NO.570 West Huaihai Road, Xuhui District, Shanghai
Highlighting the year 2000 as a key time concept, the exhibition intends to probe into the various changes, emerging trends of thought as well as social problems ever since then and to cast light on the responses contemporary art has made.

The exhibition focuses mainly on two "turning points", or say two types of "transition"–that from easel art to conceptual art and from form to social significance. To be more specific, the former refers to the fact that in the wake of the development of the linguistic nature of contemporary art, the linear evolution of art since mid-80s came to an end. Compared to art back in the 90s which featured painting mainly, it has now become more diverse and conceptual. The latterstresses on the changes of the writing of contemporary art. Attention has been shifted from the logic embeddedin the form to social movements, social significance, social problems (i.e. urban space, land and ethnic groups) and the demonstration of the different experiences. In the meantime, with the increasing involvement of the internet, films, televisions, high-tech and new media, the art form has witnessed continuous development as it is equipped with the capacity to present new visual forms of expression in line with the development of the society.
With a focus on the status quo of the Chinese contemporary art and the driving force behind it, Shanghai Minsheng Art Museum will present a selected groups of works produced since 2000. These works cast light on how artists think about art, the evolution of social concepts as well as the progress and destiny of Chinese contemporary society from a variety of perspectives. Collectively, they form a big picture illustrating the transition witnessed in the Chinese contemporary art scene since the new century.
Participating artists include:
Cai Dongdong, Cao Fei, Chen Wei, Chen Youtong, Cheng Ran, Dai Hua, Feng Mengbo, Gao Lei, He Xiangyu, Hou Dehua, Hu Weiyi, Ji Lei, Jiang Huajun, Jiang Zhi, Leng Guangmin, Li Bingyuan, Li Ming, Li Songsong, Li Shurui, Liao Wenfeng, Liang Ban, Lin Ke, Liu Wei, Liu Weijian, Liu Xinyi,Ma Qiusha, Miao Ying, Qiu Xiaofei, Shi Qing, Sun Xiaoxing+Gao Yanqin, Tan Tian, Tao Hui, Tang Dixin, Wang Haiyang, Wang Zi, Wu Chao, Wu Junyong, Xu Zhen.