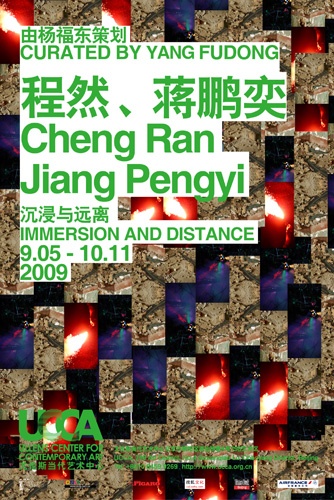 Cheng Ran: Immersion and Distance
September 5th through October 31st, 2009
Ullens Center for Contemporary Art (UCCA)
798 Art District, No. 4 Jiuxianqiao Rd, Chaoyang District, Beijing, China
The Ullens Center for Contemporary Art (UCCA) presents Cheng Ran's exhibition, Immersion and Distance. Cheng Ran presents his works Punk's Here, which includes a 'midnight' museum installation and a video displayed by three screens. The exhibition will be on display until October 31, 2009.
"Immersion and distance may indicate insistence and a certain direction." says Yang Fudong when explaining the theme of the exhibition. Cheng Ran's works are largely based on rational thinking. Rather than focusing on a certain medium, he has been working with video, poetry, theatre, fiction and installation. In his works, Cheng alters the space, structure and perception of the original materials. His intellectual approach makes him stick to his own perspectives and opinions, experimenting in an unusual fashion like a man constantly on the road.
In Cheng Ran's works, The 'midnight' museum is always closed. An operational process that pauses at regular intervals. The on-site smoke machine in the model room fills the space with smoke at specific moments. Several spotlights are spinning, and the space is largely invisible amidst the smoke, except for the part lit up by the spotlights and window area. In an imaginary midnight surrounding, this museum is like a container of ideals. The smoke diffuses within the space, like a sealed specter.