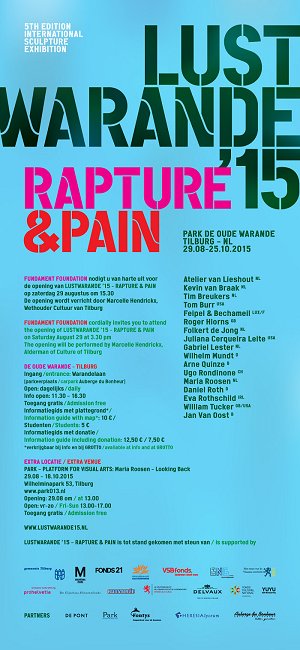 GABRIEL LESTER: LUSTWARANDE 15: RAPTURE AND PAIN, INTERNATIONAL SCULPTURE EXHIBITION
August 29th through October 25th, 2015
Park De Oude Warande
Tilburg, The Netherlands
De Oude Warande was commissioned in 1712 by the German prince Wilhelm von Hessen-Kassel, lord of Tilburg and Goirle. He had De Oude Warande designed after the latest garden fashion, Baroque. The basis of the design is a star-shaped forest, with the paths in each of the four quadrants laid out in four different geometric forms, creating a maze. Pleasure gardens of this kind were usually adorned with sculptures of mythological figures, grottos, fountains and ponds.
Like previous editions, Lustwarande '15 – Rapture & Pain shows a range of works that illustrate developments in international contemporary sculpture in the broadest sense of the word. Although sculpture regained its status and general appreciation during the first decade of the 21st century, as demonstrated by exhibitions all over the world and by the fact that increasing numbers of artists, including many fresh, young talents, are incorporating sculpture within their oeuvres, it should also be noted that no significant new developments have taken place within the genre since the early years of the current decade; all conceivable forms of sculpture have been widely explored and frequently applied within the continuing exploration of community art and relational aesthetics, of ephemeral sculpture, culminating in Hypermaterialism, of Minimal Art and conceptual sculpture, of kinetic sculpture and, finally, expanded sculpture (all manifestations of temporary, moving, non fixed sculpture, including performance) – in short, within the (re)examination of Modernism (reloading Modernism/Altermodernism, Nicolas Bourriaud, 2005).
So Lustwarande '15 does not so much claim to present new tendencies but, now that the effects of the financial crisis are also being felt within the cultural world, so art has had to cede a considerable amount of territory, and the exhibition will primarily be about the relationship between contemporary sculpture, time and the zeitgeist.
Social criticism and commentary through aesthetics in art are nothing new, but a renewed focus on these aspects may have a revitalising effect within our changing social frameworks. The direct connection with the world in which art is created is, after all, what gives art its ultimate raison d'être. Without presupposing that contemporary art in general and contemporary sculpture in particular react directly and explicitly to the changing social climate, a current analysis of its social roots could regain territory for art and, ultimately, yield societal gain.
It seems at first that such a perspective, in which the focus is no longer primarily on formal aspects or on specific characteristics of the content, could result only in an extremely kaleidoscopic scenario. Formal features and intrinsic themes and issues – identity, the fragmented body, history and art history, globalisation, conflict and migration, ecology and sustainability – seem to tumble over one another. It is, however, the social criticism inherent to each of the individual works that ultimately unites them. This social criticism is not unequivocal or unanimous, but operates on a continuum, with pessimism and opposition, doubts and confidence about the future, at its extremes.
Rapture & Pain deals with contemporary notions of progress, in which expressions of hope, ecstasy and utopia alternate with manifestations of doubt, fear and decline. The values involved are seldom absolute opposites. The various expressions of social criticism are more likely located around the broad middle spectrum, where they both diverge and converge, just as rapture and pain are often extensions of each other.
The sculpturally oriented works of Gabriel Lester are expressions of optimism with an emphasis on the positive mutual relationship between the artist as creator of social space and the participatory nature of those who experience (rather than merely view) the art. This artistic approach involves explicit social engagement.
Participating artists
Atelier van Lieshout (NL) – Kevin van Braak (NL) – Tim Breukers (NL) – Tom Burr (USA) – Feipel & Bechameil (LUX/F) – Roger Hiorns (GB) – Folkert de Jong (NL) – Juliana Cerqueira Leite (USA) – Gabriel Lester (NL) – Wilhelm Mundt (D) – Jan van Oost (B) – Arne Quinze (B) – Ugo Rondinone (CH) – Maria Roosen (NL)* – Daniel Roth (D) – Eva Rothschild (IRL) – William Tucker (GB/USA)