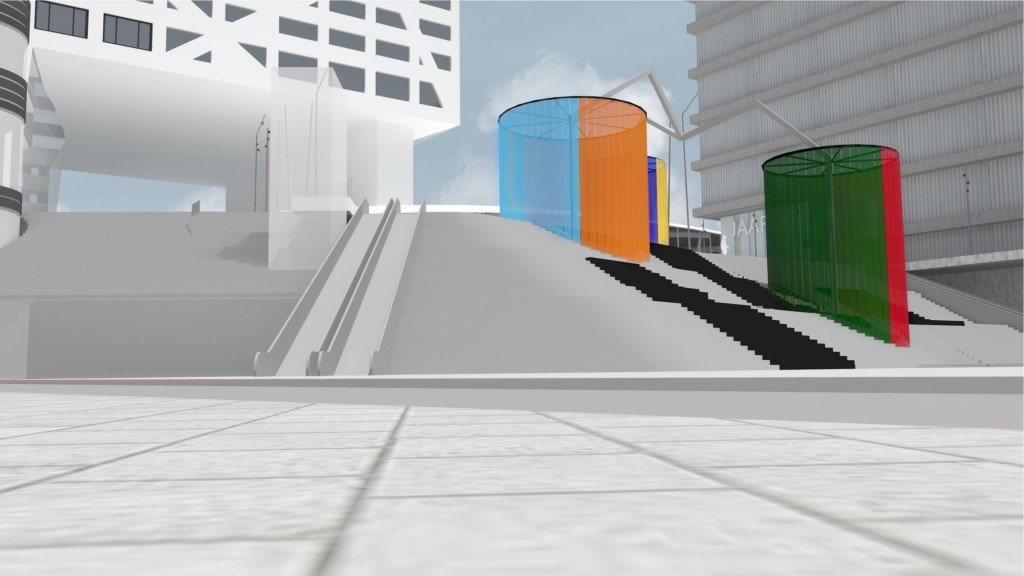 GABRIEL LESTER: AURA UTRECHT BY POLYLESTER (GABRIEL LESTER & MARTINE VLEDDER)
July 4th through November 30th, 2016
Public Works
Utrecht Central Station, The Netherlands
The interactive art intervention Aura Utrecht design Poly Lester is ready. The colorful installation composed of industrial tinted plastic PVC curtains, stands at the entrance of Utrecht Central Station, on and above the steps of the city plateau at Jaarbeursplein. Poly Lester used the shielding function of the material to a to create meeting and accommodation area, which withdraws in a playful way to bustle of the busy transport hub. Invites the relaxed nature of the PVC curtains visitors to enter the pavilion from any direction. The properties of material – transparent, colorful, lively, robust – form the basis of the artwork.
The internationally successful artist, filmmaker and inventor Gabriel Lester founded in 2013 together with architect and urban designer Martine Vledder interdisciplinary design Poly Lester on. This the reason for its art in public space, architectural to distinguish interventions and interior of his practice as an independent artist. Poly Lester focuses on projects in the public domain where they are working at the interface of art, architecture and design. Lester works in a cinematic way with elements such as light, music and decor. The sensory experience of its audience are central to his art. Has the last few years He realized many large-scale projects in public space, the performative interaction between artwork and audience is crucial. The open and accessible physical nature of the PVC strips Aura Utrecht arise flexible forms, with soft borders and inviting spaces. This makes the work of art and location explicitly activated by the person who is in there or distant spectator of its own. Inside, the three defined volumes creating a colorful view of the world that associates with an oasis, a stage or a monumental display. Thereby Use of artificial light and play with sunlight, the spaces the impression of a contemporary cathedral. The door the curtains defined areas will be bright accents and landmarks in the forming station area. The material is robust, shape and color fast and does not movement obstruction but invites right from interaction for example through frequent walking. Colorful and playful curtains, transparent and protective at the same time, framing a moment in time and space, an aura of light and oasis in the hustle and bustle, an energy in the city. The artwork contains 16 tons of steel and 1.5 km PVC strips. The three volumes are collectively content of nearly two Olympic swimming pools and they range from 7 to 10 meters at highest point.
Public Works
Aura Utrecht is part of Public Works, one of the foundation initiative Art in the Station Area in cooperation with the city of Utrecht. Public Works has been established in dialogue with different artists and with partners and companies in the Utrecht station area as Klepierre, NS and ProRail over a period of three years.