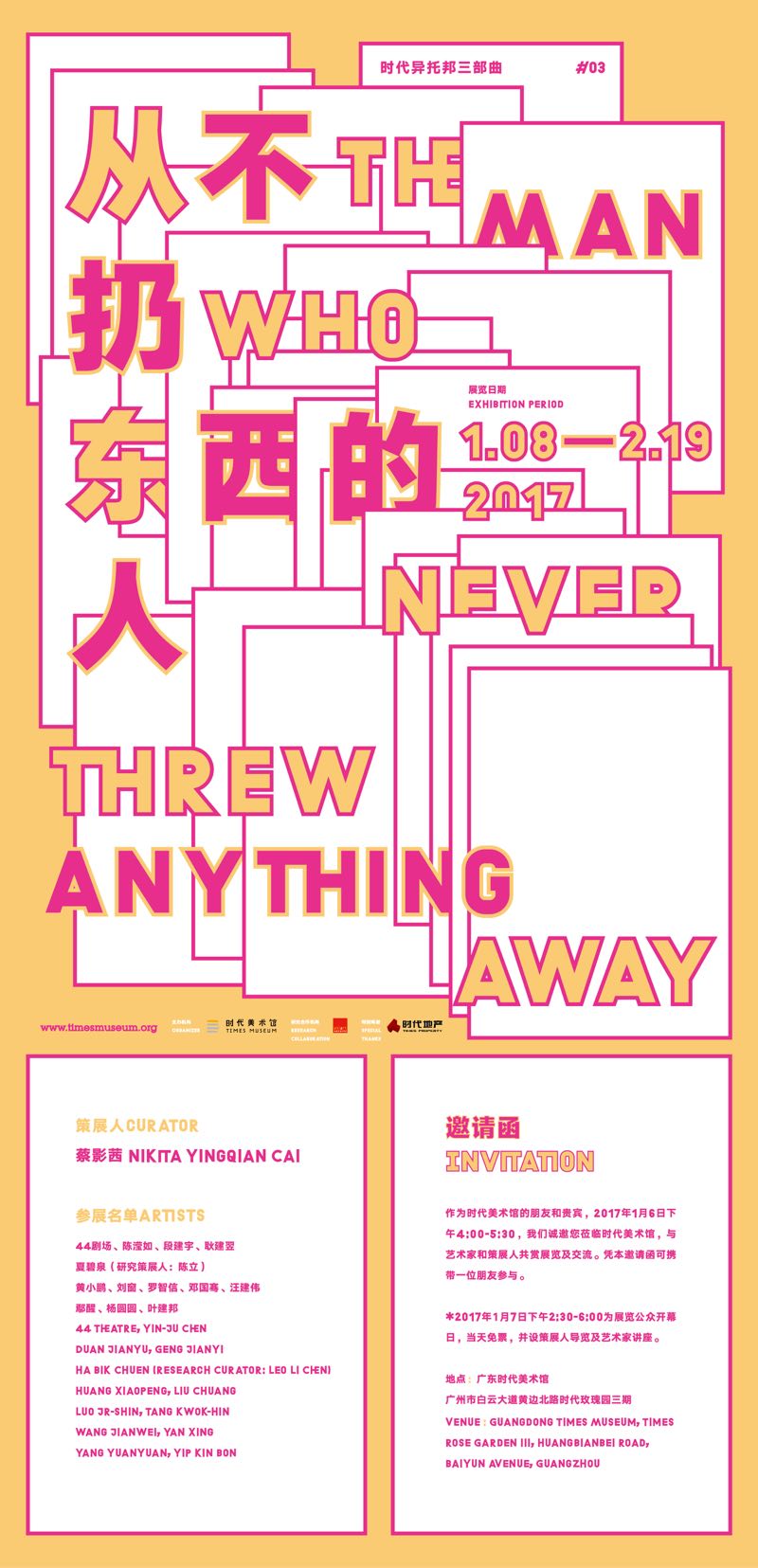 Times Heterotopia Trilogy III:
The Man Who Never Threw Anything Away
Guangdong Times Museum
January 8th through February 19th, 2017
Opening: January 7th, 2017
Liu Chuang is featured in the group exhibition "The Man Who Never Threw Anything Away" at Guangdong Times Museum. The exhibition is curated by Nikita Yingqian Cai and will run from January 8th through February 19th, 2017.
The Man Who Never Threw Anything Away borrows its title from an installation of the same name in Ilya Kabakov's Ten Characters (1988). Kabakov constructed the fictional character of a crazed hoarder: his room like a landfill of memories, full of all sorts of labeled objects, yet this mysterious occupant was almost never seen. As an artist of the former Soviet Union, the recognition of Kabakov and his works in the West occurred alongside the Post-Cold War period's increased accessibility and gradual democratization of archives. Once moving beyond the Cold War ideology, "The Man Who Never Threw Anything Away" can be seen as a fable of the internet era: the archive can now be expanded to hold records of all media. In addition to printed matter and physical objects in a material sense, it also includes dematerialized forms of intelligence, information and data. The concept of "physical evidence" has been challenged, and archives that exist completely in a material sense are undergoing yet another "death"—what the The Man Who Never Threw Anything Away leaves behind might only exist in cyberspace.
It is not a problem for internet surfers to trace a fact or an identity through the internet, though the challenge is more to establish a relationship between the multiple narratives or histories and the personal experience and perception. Image as pure existence has become the one and only immediacy in real time: there is an inexhaustible online archive on one hand; and on the other, non-stop streams of webcast and performances. This fever to keep and store every personal moment and memory presents an attack on the exclusive mode of archiving and interpreting, and the static and materialized forms of authority; the infinite visualization of information eclipse the origins of image and the legitimacy of the author.
For those artists who are motivated by the "archival impulse," the creativity of working with archive lies in the suspended moment that the archive is removed from its original context, and yet to be rendered as meaning. Artists do not only collect existing images, materials, information, documents, and footages produced by others, but also carry out processes of editing, reconfiguration, and even fictionalization. The archive—dead or alive—provides freedom for artists to move nomadically between text and image, between perceptual networks and systems of knowledge. Their passion for the archive has always contained a concern for affect, materiality, and form.
To create Liu Chuang's elegantly simple project Buying Everything On You, the artist approached people on the street and offered to purchase everything on their person. Liu takes the possessions of those who accept his offer and lays the bartered possessions out on low plinths in arrangements that call to mind both taxonomical research and funereal rites. On the one hand, Liu is providing us with a snapshot of contemporary consumer proclivities in an era when forces both social and personal encourage us to define ourselves by the things that we own. On the other, he is providing us with a portrait with an empty center: while his subjects may be defined peripherally, by their clothes, or the contents of their pockets, they necessarily remain elusive.
About the Artist
Liu Chuang (b. 1978 Hubei, China) produces work that integrates social intervention with institutional critique to examine China's immediate realities, particularly the Shanzhai phenomenon of piracy and plagiarism in mass manufacturing and culture. Working across disciplines from video, installation, architecture to performance, Liu uses banal ready-mades and intervention techniques with a subtle, wry sensibility and an awareness of absurdity.
Liu Chuang has exhibited extensively in international exhibitions including: "Matter Fictions", Museu Coleção Berardo, Lisboa, Portugal, 2016; "Tutorials", Pino Pascali Foundation Museum, Polignano, Italy, 2016; "Bentu, Chinese Artists In A Time Of Turbulence And Transformation", Fondation Louis Vuitton, Paris, France, 2016; "We Chat: A Dialogue in Contemporary Chinese Art", Asia Society, Texas, Houston and Center For The Arts, Wesleyan University, Middletown, Connecticut, USA, 2016; Berlinale, The Berlin International Film Festival, Berlin, Germany, 2016; The 10th Gwangju Biennale: Burning Down the House, Gwangju, Korean, 2014; The 10th Shanghai Biennale: Social Factory (Shanghai, China, 2014), "28 Chinese", Asian Art Museum, San Francisco, The San Antonio Museum of Art, San Antonio, both in USA, 2015, and Rubell Family Collection/Contemporary Arts Foundation, Miami, USA, 2013; "My Generation: Young Chinese Artists", Orange County Museum of Art, Orange County, California, USA, 2015; Oklahoma City Museum of Art, Oklahoma , USA, 2015, Tampa Museum of Art & Museum of Fine Arts, St Petersburg, Florida, USA; "Artists' Film International", Whitechapel Gallery, London, UK, 2012, etc.
Liu Chuang's recent solo exhibitions include "Segmented Landscape" (K11 Art Village, Wuhan, China 2015), "Love Story" (Salon 94, New York, USA, 2014), "Untitled" (The Dancing Partner) (Kunsthall Stavanger, Stavanger Norway, 2014), and "Liu Chuang: Works #16-21" (Leo Xu Projects, Shanghai, 2012).
To learn more about the artist, please go to the artist page.