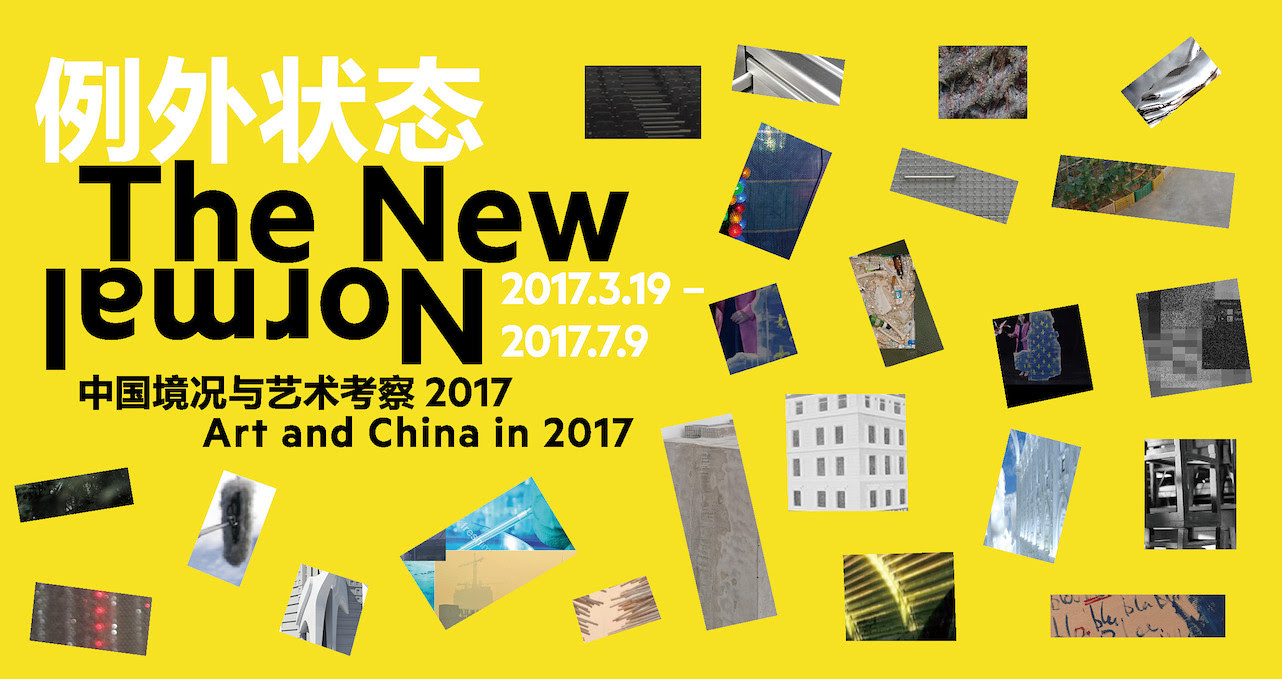 The New Normal:Art and China in 2017
March 19–July 9, 2017 
Ullens Center for Contemporary Art (UCCA) 
798 Art District
No. 4 Jiuxianqiao Road, Chaoyang District
100015 Beijing, China 
What is the place of art in China today? Or rather, in a world where the underpinnings of the post-World War II consensus have come suddenly loose, a world whose most prosperous corners find themselves in thrall to sectarian populism, a world increasingly unable to deny the changes wrought to its ecosystem by the last hundred years of human emissions, and a world in which, despite it all, China continues to grow in output and influence, what is to be done?
Coined by Carl Schmitt and expanded by Giorgio Agamben, "state of exception"—the exhibition's Chinese title—refers to a political situation in which the normal laws and regulations of a society are abruptly suspended, and replaced by temporary conditions that in turn form a new reality. States of exception have been imposed at moments of crisis throughout modern history; crisis today is constant, as ideals of freedom, equality, and openness, once held by some as universal values, give way to mass shootings, aborted ceasefires, violated norms, and tainted elections. To put it differently, "states of exception" and "norms" have contrived an uncanny dialectic. In 2015, the Chinese leadership introduced "the new normal," a way of talking about economic growth rates that, while lower than those of the most exuberant years of the early 2000s, continue to trump those of most other major economies. China's assertively capitalist, globalist response to these increasingly acute dynamics—most recently typified by President Xi Jinping's address to the World Economic Forum in Davos—might be said to form another "state of exception" in which artists live and work.
Taking China's evolving if still troubled national condition vis-à-vis the rising backlash against globalization on other continents as a point of departure, The New Normal includes work by 23 artists and artist groups from China and beyond, occupying all four UCCA galleries. It arrays works that probe exceptional nodes as a way of examining underlying conditions, and surveys the current state of art in 2017, a curious point in history grounded in an imploding social reality. The exhibition continues the Center's long-term research into new directions in China's contemporary art scene as well as the institutional tradition of mounting a large-scale group exhibition once every four years begun with Breaking Forecast: 8 Key Figures of China's New Generation of Artists in 2009 and continued with ON | OFF: China's Young Artists in Concept and Practice in 2013. The New Normal is organized by UCCA curators Guo Xi, Yang Zi, Alvin Li, and Wenfei Wang working with UCCA Director Philip Tinari. Li Hu/ OPEN Architecture are the exhibition architects.
During this exhibition, the Nave, one of the four UCCA galleries, will transform into a Pavilion of Exception for public events and exchange. The Pavilion of Exception will house a standing reading room displaying an extended collection of books selected by the exhibition curators, participating artists, and scholars. Throughout the exhibition, UCCA will invite artists, writers, and researchers working in various fields to contribute to a rich slate of public programs around themes of technology, political economy, performance, and literature, in the varied forms of lecture performances, conversations, talks, sound installations, live music, dance, and theatrical stagings. These happenings will offer the audience various vantage points from which to grasp the different "states of exception" shaping the global condition, as well as their profound implications for establishing future social norms.
Participating artists include: Chen Chenchen, Cui Jie, Gao Lei, Guo Xi, Li Jingxiong, Li Qi, Liang Ban, Liao Fei, Amy Lien & Enzo Camacho, Lawrence Lek, Liu Yefu, Ma Jianfeng, Sophia Al-Maria, Ma Haijiao, Miao Ying, Max Hooper Schneider, Shen Xin, Wu Tsang, Wang Guangxu, Lantian Xie, Yao Qingmei, Zhang Ruyi, and Zhu Changquan.